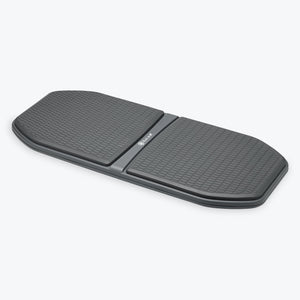 GAIAM EVOLVE BALANCE BOARD - GRAY
Regular price $79.98 Sale
 Built for any standing desk, our Evolve Balance Board challenges the stabilizing muscles of the back, core and legs while you work. It has an ergonomic design with neutral ankle-foot positioning with non-slip texture which provides a safe platform for engaging body and mind.
Low-impact movement activates back, core, leg and ankle muscles
Ergonomically promotes neutral ankle-foot alignment, avoiding over-pronation
Increases productivity by keeping the body active and mind focused  
Non-slip, honeycomb texture provides a secure base on hard floors or carpeting
Durable and built to last
Measurements: 27"L x 12"W x 3.65"H; 6.35 lbs.
Weight Capacity: 250 lbs.
Materials: PU, PVC, & TPR.
Care Instructions: Wipe clean with a damp cloth.