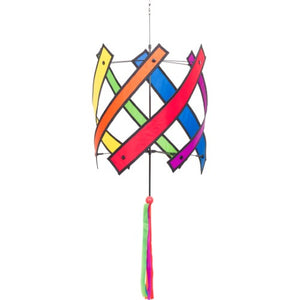 Hoffmann's Rotor
Regular price $20.99 Sale
The Hoffmanns Rotor is not just a spinner but a piece of art that will catch any eye. Designed by the Great Rainer Hoffmann this spinner is sure to bring any garden or patio to life.
-Ripstop-Polyester, tear-resistant and specially coated for brilliant colors
-Weatherproof material
-Recommended for wind speeds up to 25 km/h (15 mph)
 About the Designer;
Born in 1964, Rainer Hoffmann discovered his addiction to Kiteflying during 1986 in St. Peter Ording. After building his first "regular" kite he quickly proceeded with his own unique designs. He finished 1st place several times during the German Championships since 1997 and already publishes his own assembly manuals. All kites of Rainer Hoffmann truly convince through tremendous creativity and beautiful designs.
 Width: 50 cm / 20" Height: 65 cm / 26"