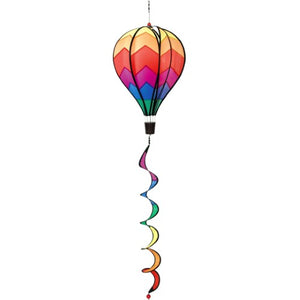 Hot Air Balloon Twist Kite
Regular price $27.99 Sale
Bring any corner of your world to life with our spinning Hot Air Balloons. Brilliant colors and a rainbow twist can be hung anywhere for a magical effect. Great for decorating the lawn, your patio or any place that needs a little cheering up. Each is weather proof and crafted with fade-resistant ripstop polyester and fiberglass frames.
The fascination created by rotating movement of our Hot Air Balloons will mesmerize you.
Ripstop-Polyester, tear-resistant and specially coated for brilliant colors
-Weatherproof material
-Recommended for wind speeds up to 25 km/h (15 mph)
 Contents
Balloon basket and panels
Swivel

 Width: 28 cm / 11" Height: 104 cm / 41"
 Important: For best results oil swivel