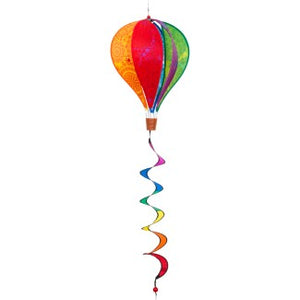 Hot Air Balloon Twist Victorian Style Wind Spinner
Regular price $27.49 Sale
The Victorian Era (1837-1901) was a period of transformation. In the decorative arts, this time did not produce merely one style, it produced many. Historical revivals, an anti-industrial return to nature, futurism, and Oriental exoticism all coexisted in the public imagination, and were often found in decorative combinations. Our Victorian style collection of wind spinners are reminders of this vibrant era and will add a splash of warm and inviting flair to your home. All items of this range captivate with a charming blend of style and color.
-Ripstop-Polyester, tear-resistant and specially coated for brilliant colors
-Weatherproof material
-Recommended for wind speeds up to 25 km/h (15 mph)
Balloon basket and panels
Rainbow twist
Swivel
 Width: 28 cm / 11" Height: 104 cm / 41"